I sometimes wonder if I'm a bit odd (hold on, I'm not finished) in that I'm actually way more eager and enthusiastic about foundation when my skin is in good condition than when it isn't.
Isn't is supposed to be other way around?
When I'm a bit pimply or dry, or pale and pasty looking, I always feel like a foundation will draw attention to my problem areas so I often barely bother. I really don't want to spend time applying a product and feel self conscious anyway; you know when it just doesn't seem to sit right? When my skin feels good however, I'm far more willing to experiment and play with different products and right now, that's where I am. Over the past few weeks I've been rotating a few different products and thought I'd share my thoughts; it's been a good opportunity to not only look at each one individually but also to compare them.
The foundation that has been in my make up bag the longest is WAKE ME UP, by RIMMEL.
I've used this as my staple foundation for a while now and have been happy with it thus far. It's been featured on so many blogs now that you probably already know that it contains tiny light reflecting particles designed to help your complexion look bright and cheery. I would say that it's a mediumish coverage foundation which is about right for me, and for the price (and the fact that it's so easy to get hold of in Boots), it does a great job.
I can't say that the whole 'skin brightening' thing makes a HUGE difference really; like, I'd still want to use a decent highlighter as well but I suppose if you're used to a completely matte base, you may well notice the difference.
Packaging wise, it's rather nice. The glass bottle feels sturdy and a pump always makes life that little bit easier doesn't it?
My only issue with this is one that I've also had with other foundations leading me to think it's me, not them. Basically, my nose just will not hold onto bloody foundation.
"Use a primer!" they say. Oh I have.
Foundation'll sit in every pigging pore on my nose, but the surrounding skin? NOPE.
Anyway......
The second foundation I've been trying is SKIN LUMINIZER, by MAX FACTOR*
Again, this is another one of those skin brightening type foundations; the luminescing element to this can be seen, swirled through the product.
Like WAKE ME UP, I'd say this is a light/medium coverage product and whilst it does have a definite subtle sheen to it, a nice highlighter in all the usual spots definitely doesn't go amiss.
It certainly covers any slight redness on the skin, and takes the edge off my dark under eye circles with ease.
Packaging wise, it's all a bit meh for me. It has a pump, and I suppose the swirl is nice but it's nothing to write home about and longevity wise, I have the same old issue with this one too unfortunately. If you have oily skin (or an oily nose, as seems to be my case), I wouldn't be in a mad rush to buy this one, it just can't be relied on to last very long.
The third and final foundation on my list is by BOOTS No7.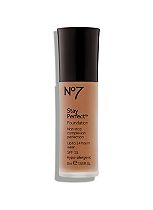 I received a sample of this when I recently tried the Match Made service and Indre, from the Cavan branch also applied some for me that very morning. Lucky I went in bare faced.
There's no mention on this one of brightening particles and the like; it's a fairly bog standard light/medium coverage liquid formulation and the packaging reflects this. Fairly standard glass bottle really.
Something I that definitely stood out about this one, on top of the fact that I could be confident that the shade I was wearing was the right one, was the fact that it lasted. Mid afternoonish, my nose still had some coverage which definitely gives this one the edge over the other two; yes, my pores were visible due to my oil slick of a face but at this point, it's almost inevitable and definitely something that needs be dealt with skincare wise.
Have you tried any of these products and what did you think of them?
Do any of you oily skinned folk have any recommendations for me?